As one of the few ophthalmologist's practices we are certified by Menicon.
Advantages of Menicon Z Night ortho-k contact lenses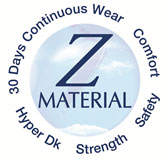 Orthokeratology is a method of vision correction aimed at stopping or significantly slowing down the progress of shortsightedness that is especially effective for children and teenagers.
Very safe and reversible method alternative to laser eye surgery.
Perfect vision that enables us to undertake various activities with no need to correct the vision defect during the day.
Fewer problems with allergy and dry eyes, especially when working in front of the computer screen.
The latest high-tech material Menicon Z ensures the highest possible oxygen permeability to the cornea.
It is the only ortho-k contact lens in the world that enables astigmatism correction.
Right lens is of light pink colour and left - light blue - different colours make it easier to differentiate the lenses and apply them properly.
Indications
Menicon Z Night contact lenses are intended for use at night, during sleep and they aim at reshaping the curvature of the cornea. They enable good and sharp vision throughout the day, with no need to wear glasses or other contact lenses. Shortsightedness and/or astigmatism are corrected already after the first night. After 2 weeks your vision will be sharp and stable.
Menicon Z Night contact lenses correct the following eye defects:
Menicon Z Night

Shortsightedness ≤ - 4.50 D.

Menicon Z Night Toric

Shortsightedness ≤ - 4.00 D.
With-the-rule astigmatism ≤ 2,75 D.
Against-the-rule astigmatism ≤ 1,50 D.
Contact lenses structure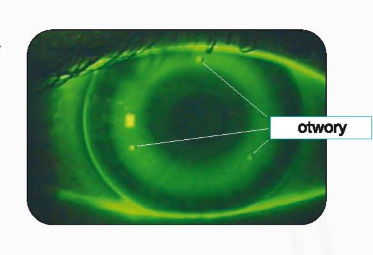 Menicon Z Night lenses are orthokeratology contact lenses of advanced reverse geometry. They are designed so as to flatten the central part of the cornea thus reducing the shortsightedness and/or astigmatism. The reverse curve is the link between the central and peripheral parts of the lens. The reverse geometry design with fenestration holes allows optimum tear exchange and prevents suction between the lens and the eye.
New geometry of Menicon Z Night ortho-k contact lenses ensures fast adaptation and precise centration of the lens on the eye.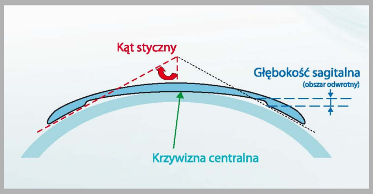 Menicon Z material
Orthokeratology contact lenses are manufactured by Japanese company Menicon with the use of material called Menicon Z. Currently it is the world's most advanced material used for orthokeratology contact lenses. Oxygen transmission of Menicon Z lenses is (depending on the measurement method) DK 163 ISO / 189 Fatt, which is the highest value among all ortho-k contact lenses. Thus it is described as a hyper oxygen-permeable material and it is the only material certified by American FDA to wear continuously for 30 days and nights. Of course it is only a possibility because orthokeratology lenses are not worn during the day. But as we can see the safety margin is very wide.
In comparison, contact lenses manufactured by Paragon and called Paragon HDS 100 with DK 100 "only" are not certified by FDA for continuous wear for 30 days and nights.
Additionally, the Menicon Z material has the lowest possible bacterial adhesion level. It is of great import when it comes to orthokeratology, because safety is crucial here. There were no events of corneal inflammation among people using Menicon Z lenses around the whole world.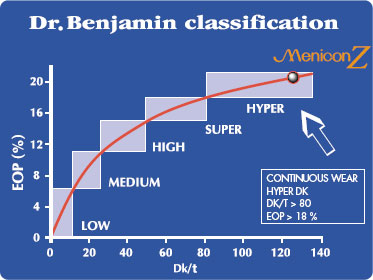 Menicon Z is characterised by the highest resistance to scratches and grease, whose particles are found in tears. Taking into account our reasonable price (PLN 1800), it is currently the best offer for orthokeratology contact lenses available on the market.
Easyfit software
Menicon Z Night contact lenses are precisely fit using a corneal topographer and the EasyFit software. By introducing vision measurements and specifying the corneal topography, the software automatically determines whether a patient qualifies for orthokeratology treatment. The software automatically calculates individual lens parameters that are most suitable for each person. Menicon Z Night ortho-k contact lenses are always manufactured according to a personalised, unique design.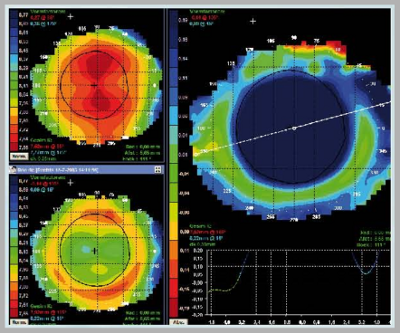 Optimal fitting
Sharp and stable vision after 2 weeks of wearing orthokeratology contact lenses means that they are well fitted. Menicon Z ortho-k lenses work perfectly by flattening the cornea and correcting shortsightedness and/or astigmatism. If the effect is not fully satisfactory, we order new ortho-k contact lenses free of charge.
Care
Menicon recommends MeniCare Plus solution for everyday cleaning, rinsing, disinfecting as well as rinsing before inserting contact lenses, and Progent for intensive cleaning of lenses at least once a month.
For more information please go to the manufacturer's website: www.menicon.com
Certificate