OPHTHALMOLOGIST'S PRIVATE PRACTICE
WE FIT CONTACT AND ORTHOKERATOLOGY CONTACT LENSES FOR EVERY PATIENT INDIVIDUALLY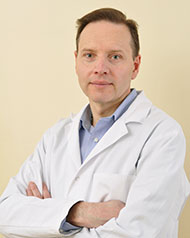 Mariusz Koziak, M.D. Ph.D.,
orthokeratologist, ophthalmologist
The progression of shortsightedness is preventable!
Shortsightedness control - newest methods to slow down the progression of shortsightedness, especially effective for children and teenagers.
Until now a short-sighted person could only check his/her vision regularly and buy lenses of still higher power to ensure good vision. Currently, as a result of numerous studies, new alternative methods of correcting shortsightedness have appeared that also help significantly minimise the progression of this defect (or even stop it completely). We recommend the following innovative methods of shortsightedness control:
MYOPIA CONTROL orthokeratology contact lenses (the most effective method)
Menicon Z orthokeratology contact lenses (very effective method)
Menicon bifocal hard contact lenses (effective method)
Cooper Vision bifocal soft contact lenses (less effective method)
Hoya or Rodenstock bifocal eyeglass lenses (less effective method)
Shortsightedness control is a more accurate term than shortsightedness treatment. Shortsightedness (myopia) is a vision defect, not a disease, thus we should talk about shortsightedness control rather than treatment.