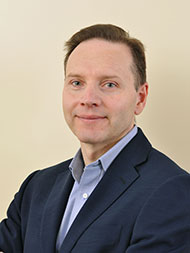 Doctor Mariusz Koziak is an experienced ophthalmologist. He is known for cooperation with leading medical clinics, publishing scientific papers and taking care of patients of the south Warsaw district - Ursynów, where he has run his ophthalmologist's private practice for many years now.
To his main areas of interests belong: contact lenses, including orthokeratology, correction of high astigmatism and keratoconus correction.
Mr Koziak is a graduate from the Medical University of Silesia, where he passed (with distinction) the 2nd degree specialisation exam in the field of ophthalmology. In order to broaden the scope of interests he also attended the College of Opticians where he obtained an optician certificate and extended his knowledge about glasses. Next, he wrote a dissertation on contact lenses for which he got the Doctor of Medical Science degree. When he was already working as a doctor, he continued education and took part in many courses regarding contact lenses fitting, both in Poland and abroad.
Mr Koziak organises a vast number of trainings for eye specialists within the field of contact lenses fitting. He has also attended numerous conventions and symposia, both in Poland and abroad. Mr Koziak is particularly interested in medical conferences related to vision correction for patients over 40. He conducts lectures for eye specialists and cooperates with the Swiss lens manufacturer - Galifa.
He is an author of 5 and a co-author of 15 scientific publications published in ophthalmology journals both in Poland and abroad. Thanks to his publications Mariusz Koziak let himself be known as an outstanding specialist within the field of contact lenses. In other dissertations he focused on such specialist fields of study as keratoconus correction, correction of high astigmatism with the use of contact lenses and orthokeratology. He is a member of the Polish Contact Lens Association.
Doctor Koziak has run his private practice in Warsaw (Ursynów district) for many years and is particularly respected as a specialist in fitting contact lenses to people who have never tried wearing contact lenses as well as for fitting glasses to people over 40, including progressive glasses.