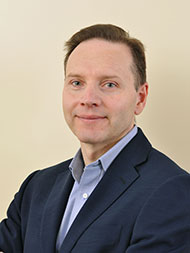 My name is Mariusz Koziak, I am an ophthalmologist and eye disease specialist with many years of professional experience. I have been running a private practice in the Warsaw Ursynów district for many years. My main area of interest as an ophthalmologist is the inhibition of myopia progression by means of orthocorrection lenses. I also deal with the correction of high astigmatism and the treatment of keratoconus.
I am a graduate of the Medical University of Silesia, having passed the exam of I and II degree ophthalmology with honours. I earned my doctorate in medical science with a research paper on contact lenses. I also completed the School of Optometry obtaining an optician's diploma in order to expand my practical knowledge on the fitting of glasses and contact lenses. I am a member of the Polish Contact Lens Association. During my apprenticeship, I continued my education by completing numerous courses, both in Poland and abroad, on modern methods of fitting orthocorrection contact lenses, specialised lenses correcting high astigmatism and keratoconus.
I am the author of 5 and co-author of 15 papers published in ophthalmological journals in Poland and abroad. I have taught courses in contact lens fitting for many years.
While running a private practice in Ursynów, Warsaw, I have refined my area of interest and focused specially on the fitting of ortho-corrective lenses. Thanks to this method, I am able to effectively stop the progression of myopia in children and adolescents from the Warsaw area, as well as in patients who come to me from other places in Poland and abroad.